Book Reviews
Food, Herbs, Health and Healing
Health and Longevity from Pre-History to Modern Day
Natural healing methods from around the world to promote well-being.
ISBN: 978-1-60860-653-5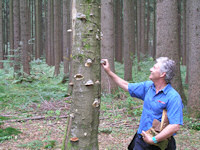 From the author of 100 Herbs of Power, Herbalist John E.Smith takes a look at the use of food and herbs as medicine in different cultures.
From the folk medicine traditions of Europe & America to the five-element system of China, you will learn the healing properties of plants and how to safely use ancient remedies for dozens of common ailments.
Food, Herbs, Health & Healing is a practice-proven way to achieve better health, naturally.
John E. Smith, B.A. (Hons) M:URHP,Dip C.H., is a Classical Herbalist, who has worked and studied throughout Europe, the United States, China, India, Australia, the South Pacific and the Middle East. His interest in traditional systems of healing has inspired this multi-cultural approach to herbal medicine.
Publisher's website:
http://strategicpublishinggroup.com/title/FoodHerbsHealthandHealing.html

John E Smith: http://herbalkhemy.com

Recent Reviews:
This book has improved my health – just by reading it. It is a treasure of knowledge on herbs, food and healing practices from cultures all round the world, from ancient to right up to date. The author makes it clear that herbal medicine is not a science – it is a healing art. He successfully assists the reader to view the body as a whole rather than a collection of unrelated parts. Written with warmth and humour this book is based on the author's practice and passion for herbal medicine traditions and is an excellent follow-up to his previous book 100 Herbs of Power. - Moya Henry: Crescent Arts – Belfast
'Food, Herbs, Health & Healing' by J.E. Smith is the book for those who would like a natural approach to health, healing and beauty.

Combining ancient knowledge with modern facts, easily explained and therefore easy to put into practice. John E Smith outlines a drug free approach to health under the belief that nature is the greatest healer. - Aranza Cobo – Editor 'Back to Nature' Magazine

100 HERBS OF POWER
Classical Herbalist John E. Smith's New Book Discusses the Power and Tradition of Herbs

100 Herbs of Power is an influential read detailing the traditional and medicinal uses of herbs for healing in a world where natural solutions are often overlooked.
Author John E. Smith sees a world that has a lot of potential for harmony and beauty, and yet also a lot of discord and things that make little sense in terms of universal betterment.
"If I can make the tiniest difference, that's great," Smith said.
And the difference that Smith has made is the writing of his new book 100 Herbs of Power. In this potent work, he describes the rich, colorful history and traditional uses of medicinal herbs from numerous cultures around the globe. He outlines the potential of these powerful herbs in a world where science often overshadows common sense.
This influential book is a must read!

Publisher's website: http://www.strategicbookpublishing.com/100HerbsofPower.html
About the Author:
John E. Smith, B.A. (Hons) M: URHP. Dip C.H. is a classical herbalist who has worked and studied throughout Europe, the United States, China, India, Australia, the South Pacific and the Middle East. His interest in traditional systems of healing has inspired this multi-cultural approach to herbal medicine.
For media inquiries, appearances, or other publicity — please contact:
Ellen Green — PressManager@aegpublishinggroup.com
AEG Publishing Group, Inc.
845 Third Avenue, 6th floor-6016 – New York, NY 10022
http://www.Strategicbookpublishing.com - http://www.EloquentBooks.com - http://www.StrategicBookMarketing.com
1-888-808-6190 - Corporate Office
Book Suggestion: 'Herbal' novels by Susan Wittig Albert
A book suggestion for those who like a good novel, but also want to read herb related subjects.

The USA author Susan Wittig Albert has written a series of 'herbal' novels. With titles such as Wormwood, Nightshade and Thyme of Death, they are what could be termed as 'cosy' detectives, with the main character a herb shop owner, she grows herbs, teaches herb workshops and has a shop full of herbal remedies, cosmetic herbs, etc. There is usually a murder in the town and she is the amateur sleuth.

They're very entertaining and many are available on kindle as well as paperback.

Best wishes,
Dawn Ireland