The URHP is a professional association and register of qualified herbal practitioners. It is unique in that it embraces the diversity of the herbal world, with members trained in different herbal traditions: Western Herbal Medicine, Ayurveda, Traditional Chinese Medicine, Tibetan Medicine and Unani Tibb.
Latest News and Events
URHP Herbal Gathering: 5th - 7th July 2019. 'Where Unity and Diversity Meet'
A Conference for Qualifed Herbalists and Herbal Students at The Purley Chase Centre, Atherstone, CV9 2RQ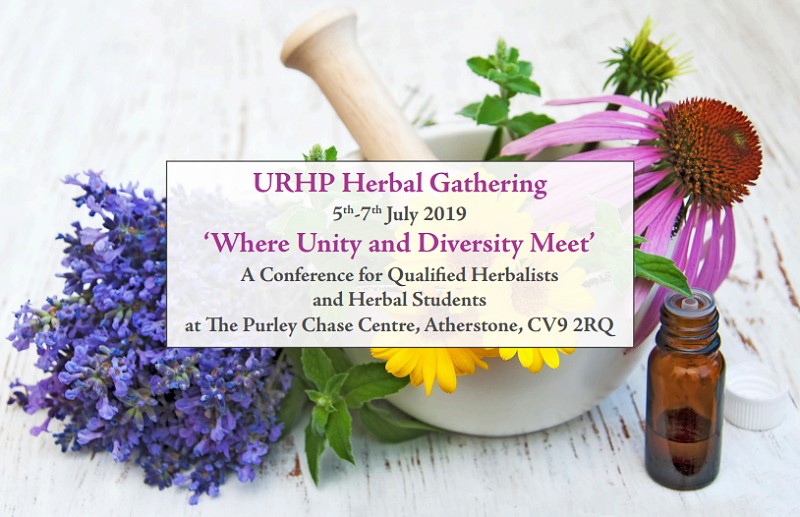 This year's URHP conference is a dynamic weekend of workshops, talks, walks, market and discussion groups in the beautiful grounds of Purley Chase. There will be stands and sessions from Herbal companies including Avicenna, CBD Brothers and Spagyrics. As a knowledge exchange, this is an opportunity to learn from the wealth of experience of other Herbalists as well as letting others gain from your own ideas and understanding. Along with a set programme there will be open space for spontaneous discussion and skill sharing.

Diverse and Expert Teaching from Herbal Practitioners:

CBD Brothers - Ben Birrell
Phylak Spagyrics - Liz Lyden
Avicenna - Joe Nasr
Herbal Walk - Barbara Wilkinson
Focus on your health: Consult a herbal practitioner
For the latest information from the British Herbal Medicine Association regarding health practitioners suppliers please go to